Last updated July 31, 2018
Journalists are routinely required to disclose conflicts of interest and even recuse themselves from stories or even their jobs. Michelle Norris, for example, left her position as host of All Things Considered when her husband took a position with Obama's reelection campaign. Yet religion gets something of a pass in this regard. It is routine for reporters not to discuss their personal beliefs and practices even when they are reporting on religion. This is an obvious double-standard. How can a Catholic reporter, who seriously believes in transubstantiation, the infallibility of the Ex-Cathedra utterances of the Pope, etc., possibly be objective when covering Catholicism if the assumption is that Norris can't be objective about Obama because her husband works for the campaign? I mean I sort of get it about Norris, although I credit her with having a totally independent brain from that of her husband and personally think she needn't have stepped down, but a person's religion is a deep part of their personal identity – not just something their spouse does.
I'm a bit of a purist on this issue and think that religious folks shouldn't be religion reporters because they are, by definition, biased in favor of religion in general and biased against the tenets other faiths. But at the very least reporters should tell us what religion, if any, they follow.
As a strict agnostic I have a sensitive ear for bias in religious journalism. I don't mean bias towards one religion or another, I mean the underlying, nearly axiomatic assumption by many American journalists that being religious is good per se. This is something the journalists themselves have a hard time noticing, because they swim in a sea of what Daniel Dennett has called "belief in belief," which is the idea that it doesn't really matter what you believe, but it matters that you believe. Statistically I'm guessing most public radio reporters actually are religious/spiritual. I have no way of knowing across the board, but if they come even close to representing the American demographic histogram – nine out of ten Americans believe in God – they must be. I do know some of them are religious or constitutionally friendly to religion, and I'll be listing them below.
One thread common among agnostic/atheist "believers in belief," whether my own friends or public figures who go on record about their feelings about religion, is that they grew up in religious families and have an autonomic "respect" for those who are religious. I suspect some of them feel like their own lack of faith is a personal failure that they might manage to rectify in the future. (Bill de Blasio seems to fall into this category.) Sometimes I think such feelings can cause those who have lost faith to value those who have it even more than believers do. In any case religion-friendly journalists absolutely must check their bias when talking about religion. Otherwise you can end up with the kinds of stories I am listing below and will continue to update as I have time.
I've mentioned this situation in passing in many of my posts, of course, but I've noticed that when I make comments to this effect on relevant message boards the usual chorus of right-wing public radio-haters drown me out with brainless claims that public radio hates hates hates religion the way they must hate Mom and Apple Pie – because they are so LIBERAL!!!
It is beyond the scope of this post to address the dumb notion that public radio is radically liberal, as so many conservatives convince themselves. The purpose of this post is to provide the evidence requested by the trolls that public radio in general and NPR in particular are pro-religion in their coverage as well as in their personal lives.
I am going to continue to update this as time allows and as examples present themselves.
Side Note: No True Scotsman
"No True Scotsman" is a fallacy that many people, including journalists, engage in when they talk about religion. It boils down to assuming that religion is a positive force and then using that assumption to retroactively define negative religious forces as definitionally not religious. This is the heart of the tragically and willfully stupid "ISIS has nothing to do with Islam" assertion made by journalists and politicians alike from Reza Aslan to Bush to Obama.
Entire Public Radio Shows That Are Religious or Pro-Religion
On Being with Krista Tippett, (formerly Speaking of Faith.) This show is embarrassingly pro religion, hosted by a Yale Divinity School grad.
Interfaith Voices. Their treacly, obsequious-to-religion slogan on Twitter is "Approaching the world's religions with an open, humble mind." Hosted by a Catholic Nun. (I always find it ironic to approach religion with a "humble mind" given the unfathomable arrogance so many religious folks have involving their evidence-free certainties about reality and personal relationship to the infinite almighty.)
Shockingly I just heard the contributor credits at the end of Science Friday and was horrified to learn that the Templeton Foundation is a sponsor. The missions of that very wealthy foundation include trying to prove various religious notions like the efficacy of prayer, and to promulgate the misguided assertion that science and faith are compatible. I have not detected much bias in this direction on Science Friday, but I am not a regular listener. I don't know when this unfortunate relationship began.
Public Radio Staff Who Are Religious or Pro-Religion
Ari Shapiro. I don't have an opinion about him yet, but since he reports on religious subjects from time to time I asked him on twitter. So far no reply. He is gay, so that may inflect his feelings about groups like ISIS that hurl homosexuals and apostates off of roofs.
Krista Tippett of "On Being", née "Speaking of Faith". Never met a religion she didn't love.
Michelle Norris of NPR (Feb 19 2015 tweet below)
EJ Dionne is usually the liberal half during ATC's version of point/counterpoint. He often mentions his Catholic faith. This is an interesting position that some in media critical circles have called for more of: Dionne admits his biases. I suppose this ghettoizes him sometimes as an editorialist, but it's a good start. When he reports on the church at least we have a broad idea of his perspective.
Barbara Bradley Hagerty is a religion reporter for NPR and was raised as a Christian Scientist. What she is now I don't know, but her journalistic output is consistently pro-religion and pro-religious figures. I'll list some of her worst stories below.
Scott Simon (for whom I have otherwise great affection as a host) often speaks warmly of religion and religious figures, even some nasty ones like Oral Roberts. On August 1 he interviewed Nick Tosches, author of Under Tiberius which portrays Jesus as a villain. Simon once again revealed his naked affection for religion. As soon as the conversation became a bit critical of religion, Simon pulled out this:
I have been around the world in a lot of different wars and scenes of savagery. And in I believe all of them, you will find very selfless priests and nuns trying to help people.
The problem with this sentiment is that it represents the one-way filter used by people predisposed to religion. The claim is that when people do good things it's because of religion, but when people do bad things, even in the name of religion, it's somehow not because of religion. This is how the press in general and NPR in particular refuse to blame Islam for the actions of ISIS even as they give Christianity the credit for the good actions of Christians. They refuse to admit religion can be a bad influence, even though examples abound, from monumental atrocities of ISIS to quotidian indignities perpetrated against gays and women. Tosches gave him a pretty good answer:
I am saying that those same good human people would be behaving the same way without a god to tie it onto.
UPDATE 4/30/29
Scott Simon went into some detail about his personal theology in an interview on today's show:
NEVINS: Do you know where you're going? I don't believe in heaven or hell. So…

SIMON: No. I know what I tell myself, but do I know that for sure?

NEVINS: What do you tell – what do you say?

SIMON: Oh, I – you know, I believe in a heaven and I'll be reunited…

NEVINS: You think that?

SIMON: I'll be reunited with my parents and with my lost sister and with, you know, every pet I've ever had and loved. And I'll be up there waiting for my wife and children. Is that for real? Of course not. But that's what I tell myself to get through the day.
This is totally fascinating. They say genius is the ability to hold 2 opposing ideas in your head at the same time, but I've always thought that was a stupid thing to say. Scott Simon basically just described a theology that I think is common to many intelligent "believers." They'll say they believe, they'll even tell themselves they believe, but, if pressed by someone they respect they'll often admit they do understand it's all a fairy tale.
Tom Gjelten is now on the religion beat at NPR. Judging by one of his first stories (see below) he is pro-religion, but I don't know yet if he is religious. UPDATE: Gjelten is a gentleman and replied thusly on Twitter: "Lapsed Norwegian Lutheran (ie, unaffiliated) but humble enough not to claim I grasp anything cosmic, respect those who do." That last clause is part of the problem. Nobody is owed respect simply because they claim to grasp the cosmic. I would argue people who claim to grasp the cosmic deserve more scrutiny than those who profess ignorance. Countless people have fallen for con men who claimed to grasp the cosmic. I suspect he knows this and couldn't fit more nuance in a tweet, but religion reporters must be more clear-eyed than others when they approach people who claim to grasp the cosmic. Otherwise you risk becoming Krista Tippett. I highly recommend Gjelten and any other religion-beat reporters go see Book of Mormon as a corrective.
(8/18/15) It has come to the attention of Muslim-despising Republicans that law school drop-out and AT&T sales rep turned presidential candidate Carly Fiorina once said some nice things about Islamic cultures, not long after 9/11. Fiorina was responding to the brief and predictable outbreak of various anti-Muslim hate crimes at the time. She did so with some well-worn platitudes about the contributions to world culture of the Ottoman Empire and other Islamic apogees. Discovery of Fiorina's heinous crime against Republican orthodoxy caused a particularly inept rhetorican named Bethany Blankley to emit an incoherent tantrum-level diatribe against her. (It's worth reading for her hilariously clumsy sophomoric metaphor usage alone.) This caused Tom Gjelten to defend Fiorina on Twitter with the statement "True words, and sorely needed." I don't dispute the truth of Fiorina's words or that they were sorely needed at the time. I mention to this very minor incident simply because it demonstrates the eternal autonomic drive on the part of the press in general and religion reporters in particular to magnify positive statements about religion and minimize negative ones.
(5/14/15) Gjelten had a few revealingly odd moments hosting the Diane Rehm show episode dedicated to the recent poll showing Americans are becoming less Christian and less religious in general. He seemed alarmed by the fact that an online poll on the show's website was showing listeners were 36% atheist and 19% agnostic. He hastened to point out that this didn't necessarily reflect NPR listeners in general, just the ones who took the poll. Then, as if feeling guilty about the whole topic, he twice encouraged the Catholic Priest to explain to listeners why they should return to the faith, including letting the Priest have the last word on the show. Imagine if he had been doing a show on tobacco companies and encouraged their PR person to sell the listeners on smoking in the face of declining rates!
Eric Deggans was quick to defend religion against Peter Sagal in the following Twitter exchange: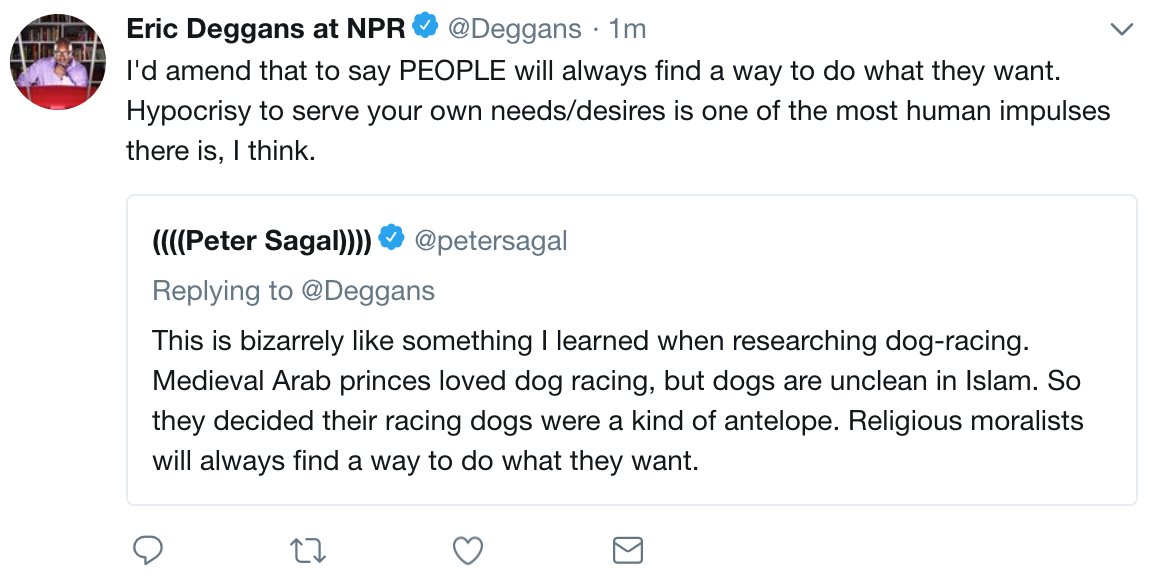 This is some serious apologetics. "Religion can't be blamed because it's human and humans are bad!" Religion is a powerful cultural tool often employed effectively to further nasty human ends. It doesn't get a pass because it's part of a generalizable description. The universe tends towards entropy, but that doesn't mean general human misbehavior is absolved.
Rachel Martin, talented host of Weekend Edition Sunday, recently tweeted that ex-Wonkette Ana Marie Cox's Daily Beast love letter to Christ, "Coming Out Christian," was "worth reading." This prompted me to ask Martin if she practiced a faith, to which query she generously replied "I don't. But grew up in a religious home and have a lot of respect for many people who do." I appreciate her addition of the word "many," because it allows room for judgment in the cases of those who fake or otherwise mis-use religion.
Reza Aslan is not a staffer but is often interviewed on public radio as an expert on religion. He has the kind of animus for new atheism that middle schoolers have for the person who stole their boyfriend/girlfriend. Literally. Wait Wait Don't Tell me broke my heart by recently featuring him as a panelist.
More to come…
Public Radio Staff Who Chose Not To Answer My Inquiry About Their Religion
Ari Shapiro
Jennifer Ludden
Pro-Religion Stories in Public Media
– This ATC story about an increasing demand for exorcists in the Phillippines just takes it as read that demonic possession is, you know, a thing. A real thing.
– This worshipful interaction between Scott Simon and a monk.
– This one-sided treatment of a Catholic family's decision not to euthanize their suffering daughter. As the blog Why Evolution Is True points out, when NPR ran a story about a woman who chose euthanasia they throughly covered both sides of the debate.
– This travesty was constructed of 2 parts speculation and one part Reza Aslan by Tom Gjelten. According to it there is a potentially violent group of extreme "anti-theists". It's laughable. Still waiting for more on this non-development. Hey, by the way, whatever happened to this case? Maybe brief spasms of Twitter outrage from the professionally offended isn't the best way to prioritize production and air time?
– In this ridiculous piece Barbara Bradley Hagerty basically presents a medical case as a holy miracle.
– Every episode of "Speaking of Faith" and "On Being".
– NPR is in the midst of a well-intentioned and well-produced (as usual) series about Muslims in Europe. Today's story about an abandoned church in Bolton, England filed by Ari Shapiro is a good example. It's an interesting story about a very ecumenical project that is just the sort of narrative people who are reflexively pro-religion love to promulgate. I don't have a problem with the story itself, but its "celebrate diversity" and "yes, we can all just get along" message is practically the only one you'll hear throughout this series. Yesterday there was the oddly-headlined and very sympathetic story "British Muslims Still Feel the Need to Explain Themselves" (filed by Audie Cornish) in which Muslims described hate emails they get from anti-Muslim extremists. It's too bad about the hate emails, but until an anti-Muslim extremist walks into a building full of innocent artists and starts shooting up the place we need to keep things in perspective. (And shouldn't we ask religious folks to explain themselves all the time?) I'm waiting for a story in this series about radical imams who encourage violence or the like, but I doubt we'll be hearing one. It appears to be a "feel good" piece except for the parts where we are meant to pity the plight of European Muslims. Muslim groups in Britain are attempting to pass anti-blasphemy laws, for example, but nothing like that is discussed in this series. So far it is mostly an attempt to understand and reify the ways in which Muslims feel bad about living in their chosen countries rather than why those countries might have some difficulty with immigrants whose religious choices are antithetical to the founding principles of the host country.
– When Evangelical cash machine Robert Schuller died NPR once again, as with Falwell, delivered a pointless, timid press-release of an obituary.
– Giving Barbara Bradley Hagerty a 5-PART-SERIES about her book on science & religion.
MANY more items to come as they are produced and from the archives when I have time to update… (if you can't wait just peruse old posts here.)
Religion-Unfriendly Events Ignored or Downplayed by Public Media
– In 2013 a numbskull named Richard Loewen tried to cause a whole bunch of carnage at the Wichita airport with a truck bomb – right before Christmas. Oh, yeah, apparently by total coincidence he also happened to be a radicalized Muslim convert. NPR published exactly two stories as part of the "The Two-Way" news disposal on their website. One was from the initial arrest in 2013, and the other was from his conviction. This means the story of what could have been a very major tragedy was never mentioned on air. (I'm increasingly concerned that "The Two-Way" is just some kind of plausible deniability landfill for not putting things on the air. Does anyone get their news from these pages?) Both stories are brief and minimize the Islamic terrorism angle. In neither story are the rather interesting and important issues surrounding his conversion and radicalization explored.
– It's the anniversary of the 7/7 London bombings that killed over 50 people. Morning Edition had a moving report about victims and responders today, but the event itself, while referred to as a bombing, was treated more like a natural disaster. There was absolutely no mention of the bombers or their motivations. That was a dramatic and obviously purposeful omission. Why did they choose to treat it that way? Were they worried that simply mentioning the Islamist terror that caused the bombings would seem "islamophobic," or did they just not want to give the bombers the attention they sought in the first place? Guessing it's the former. There will be more coverage on All Things Considered this afternoon and we'll see if they treat the event the same way. UPDATE Sure enough the second report on ATC also failed to mention anything about the bombers. This is akin to journalistic malpractice.
– The documentary film "The Wolfpack" is about the strange isolated upbringing of the children of a Hare Krishna father. Scott Simon did an interview with the filmmaker and her subjects. It's clear that one of the major sources of the bizarre and mentally abusive family culture was, as is so often the case with such families, religion, specifically the father's interpretation of the Hare Krishna branch of Hinduism. This was never asked about by Simon in the interview. It's too bad, because public attention to the role religion plays in nightmarish family cultures, from keeping gay kids in the closet all the way to murdering children by denying them life-saving medical care, could help diminish tolerance for such practices.
Simon was kind enough to respond to my tweet asking about this "I'm reluctant to label those beliefs Hindu, even if he does. A billion Hindus in the world don't lock up their children." Isn't it interesting that he self-identifies as Hindu? This is the same argument that inspires NPR guidelines to specify that ISIS must be referred to as the "self-described Islamic State." Just because most followers of Islam don't behead people on a daily basis does not mean Islam doesn't inspire some to behead people. Meanwhile the denial that religion inspires the small number of very horrible atrocities masks the fact that it indisputably inspires the millions of daily indignities and aggressions suffered by millions/billions around the globe.
– There are secularist conventions happening all the time all over the world, but you'd never know it listening to public radio. On the other hand every time there's a political prayer breakfast or CPAC circle jerk you'll hear about it for days. On the other hand given the snide tone public radio uses when it talks to or about secularists it may be better they stay away from such meetings.
– A classic today from Peter "The Non-Tweeter" Kenyon on Morning Edition. He did a whole segment on violence against women in Turkey without mentioning Islam. Yes, most cultures outside of Wonder Woman's home island are rife with sexism, but Islam has ancient, terrible and unique problems with women. Not bringing this up in the context of a story in Turkey is nearly journalistic malpractice. (He did mention head-scarves.) I can only imagine internalized fear of accusations of Islamophobia caused this omission.
– On February 26 a Bangladeshi-American named Avijit Roy was hacked to death by Muslim Extremists who were unhappy with his writings critical of fundamentalist Islam. No word was heard on NPR, though their "Two Way" news blog did cover it. Meanwhile they did see fit to run a trivial Islamophilia story about a moderate German Muslim who encourages people to ask him about his faith.
– There have been several recent stories in the US and Canada regarding children who died because religious parents refused them the treatments that would have saved them. You wouldn't know about them listening to NPR.
– Coverage of the trial of the Boston Marathon bomber on NPR routinely downplays or fails to mention the Islamic Extremist ideas behind the mass murder.
– (3-23-15) 7 children died a few days ago in a fire that was caused because ridiculous Orthodox Jewish tradition demanded a hot-plate could not be turned off on the sabbath. On numerous occasions today the deaths/burials were reported on NPR without the crucial information about the circumstances of the death.
– (4-2-15) Robert Schuler, the man who made himself and his family very wealthy while his Crystal Cathedral ministry went bankrupt, was pre-eulogized during today's NPR News round-ups because he has fallen ill. The mini-bio mentioned his Cathedral and his "Hour of Power" TV show, but, as usual, failed to mention any hint of greed or financial misbehavior on his part.
– (5/18/15) Five days ago 45 reformist Shia were murdered in cold blood execution style on a bus in Pakistan by decidedly less reformist Sunnis. So far not a peep about this on any of the flagship NPR news programs. Somehow the news choosers for every major NPR show decided this hideous event wasn't worth considering. On the other hand there was a hard hitting interview with the guy behind "The Bachelor" TV show. Priorities? It may have nothing to do with fear of being perceived as Islamaphobic, but it certainly does make one wonder.